SHE IS CHEVAL was created out of chaos, creativity, and comradery.
Formerly known by another name, CHEVAL is a byproduct of reinvention and an impassioned advocate for artists. Her recently changed name represents a fresh start, an outlook of responsible optimism, and a determination to run against the wind.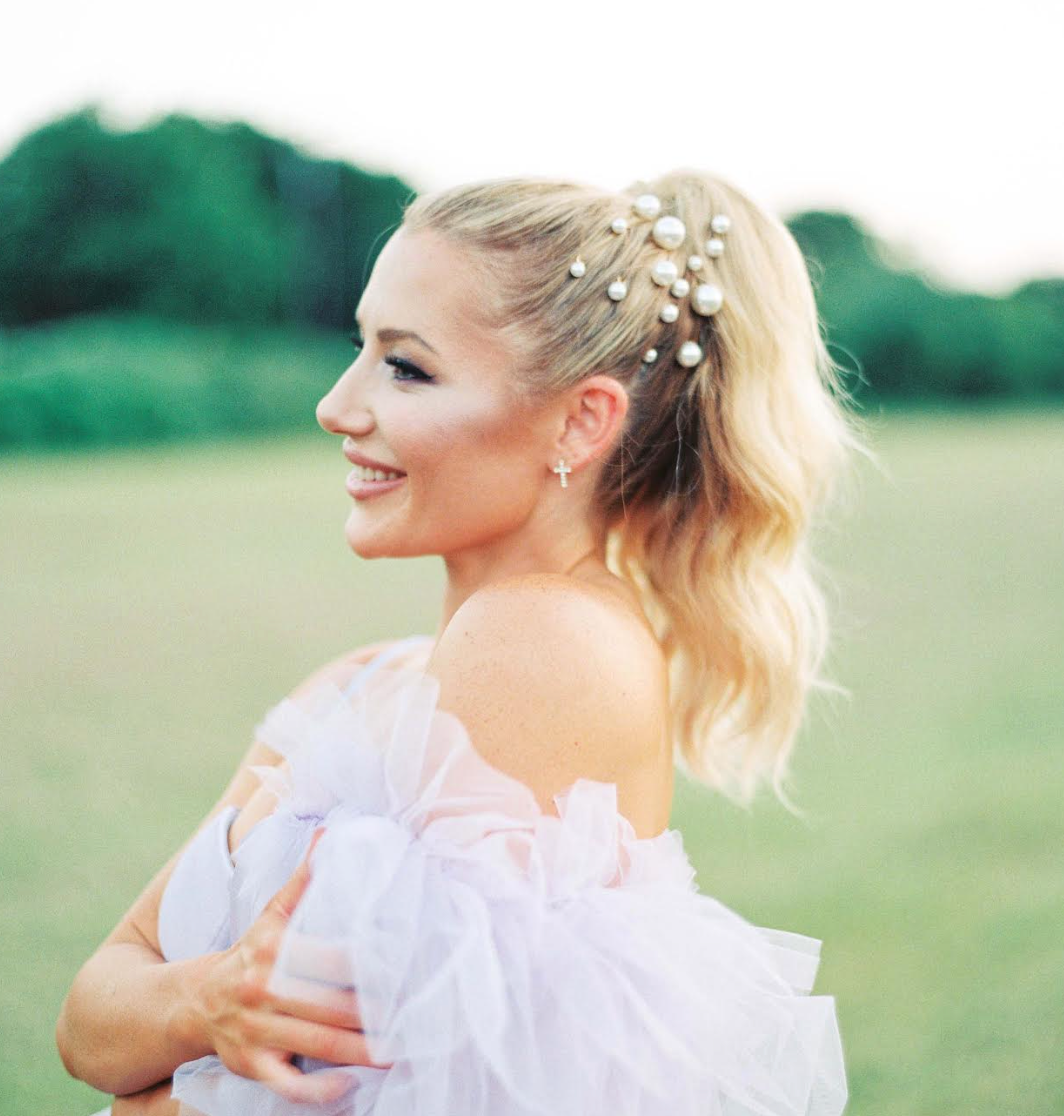 C H E V A L
TITLE: Chief Inspiration Officer
BASED: Wellington, Florida
INSPO QUOTE: "When one doors closes...KICK DOWN ANOTHER ONE (in sparkly shoes)."
PET: Winnie @misswinniepaige
WHAT PEOPLE DON'T KNOW: I was a competitive gymnast growing up… and considered making all the shoes closed-toed because of my crooked toes! Instead, I've embraced the wonky-irregular feet that have kept me moving forward and incorporated all kinds of toe box silhouettes.
BEV OF CHOICE: Skinny Spicy Margarita *UP* with Tajin on the Rim
PET PEEVE: Telling myself I will remember that as opposed to writing it down.
INSTAGRAM: @sheischeval | @allthatglittersonthegram
As the friendly designer and America's bridesmaid on TLC's, "Say Yes to the Dress," she brought over 10 bridal product lines to market, dressed noteworthy female icons like Dove Cameron, Chrissy Teigen, and Carrie Underwood, and became one of the most sought-after luxury bridal designers in the world (VOGUE'S TOP TEN). In 2017, she entered the tech space by developing and launching a wedding focused emoji app, Holy Matrimoji, that landed in the AppStore's top 100 downloads on its debut. In 2018, she helped secure a licensing deal with Hearts on Fire diamonds becoming their brand ambassador.
 After 9 years of working under a very one-sided employment contract, her former employer sued her in federal court and gained control of what she believed were her personal social media accounts. She resigned in December of 2020 and under the current preliminary injunction, she is prevented from using her own birth name in any business or commerce or even to publicly identify herself. She is also not receiving commission for her designs that are still being sold, and she is restricted from identifying herself as a designer to the trade in which her former employer competes until August of 2027.
 Rather than waiting for luck to strike, she has decided to create her own. On August 8th, 2022, she personally, publicly, and professionally changed her name to C H E V A L and opened a new Instagram account, @sheischeval. The public support has inspired her next mission in launching a 501 (c) (3) non profit foundation that provides resources to better protect the interests of young women and creatives during the formative years of their career.
She is currently writing a memoire and rebranding under SHE IS CHEVAL.
Krysta Cass

TITLE: Chief Operating Officer

BASED: Hingham, MA

INSPO QUOTE(S): 

"You can never be overdressed or overeducated." – Oscar Wilde

"The most important step a person can take is always the next one." (s/o to my fantasy bookworms out there)

PETS: Cat-Mom to Kilo, Gram & Mylo

WHAT PEOPLE DON'T KNOW: It's not that people don't know, it's just not usually a first guess - I spent just over 6 years in the military and completed three deployments to the Middle East. Kilo & Gram are actually rescues from my last deployment!

BEV OF CHOICE: Any type of specialty Margarita. . . Pineapple, Blood Orange, Spicy... you name it!

PET PEEVE: Leaving lights on in rooms no longer in-use

BIO: Krysta has over 12 years of experience in strategy and operations supporting a wide variety of industries. Driven by her passion for social responsibility and environmental sustainability, she takes great pride in building a company that prioritizes a commitment to these values.

Krysta holds degrees from the Yale School of Management, Tufts University School of Medicine and the United States Military Academy at West Point. Follow her and her three meowsers @krystakayla.

Elyse Gilreath

TITLE: Chief Experience Officer

BASED: Burlington, NJ

INSPO QUOTE: "Do what you love but call it work."

PET: Someday….but not today.

KIDS: Surrounded by boys!! Three to be exact.

WHAT PEOPLE DON'T KNOW: I will make any song a sing-along song. Anywhere. Anytime.

BEV OF CHOICE: Moscato (I prefer my wine not to taste like wine)

PET PEEVE: Handwashing clothes or dishes!! That's what the machines are for, people.

BIO: Fashion (and shopping) has always been her passion, and for many years also her profession. Early in her career, Elyse held a variety of positions in the women's fashion retail space: spending time in luxury accessories, personal shopping, visual merchandising, and retail management. When she landed in bridal fashion wholesale, that just felt like the perfect fit. In 2012, Elyse met Cheval as they worked for the same house of brands, and in 2013 they began what would become a decade-long professional partnership and a lifelong friendship. Sometimes referred to as "the dynamic duo," her time with Cheval in the bridal space was inspiring, fulfilling, exhilarating, and exhausting. Together they built a successful brand that most importantly made people smile. To have the opportunity to work together again, this time building with even greater purpose, is truly a dream come true.   

Elyse lives in her home state of New Jersey with her husband and three little boys. You can check out just how wild (and wildly cute) they are @elyseocchi.
Our story has only just begun
We are so grateful to be a part of the women's footwear industry and look forward to taking up thoughtful space. But most of all, we look forward to building a creative expression that speaks to many kinds of people in all walks of life; one that cultivates inclusivity, kindness, and unbridled creativity.
Thank you for inspiring us to put our best foot forward.